In the month of May I will be in London (+ Hammersmith & Bath) and Budapest, Hungary. I hope to squeeze in a couple days in Paris…I do SO love Paris.
The primary reason for my trip is to film again with The English Mansion (Bath) and Nikki Whiplash in Hammersmith (again)…and for the first time with Fetish Liza who I haven't worked with but did spend time with socially at The English Mansion last year.
You can see previous vids with me on The English Mansion here:
http://www.theenglishmansion.com/mistress.html?id=135
Here's Sidonia Von Bork & I enjoying a glass of wine & a nice arse licking in the hot tub: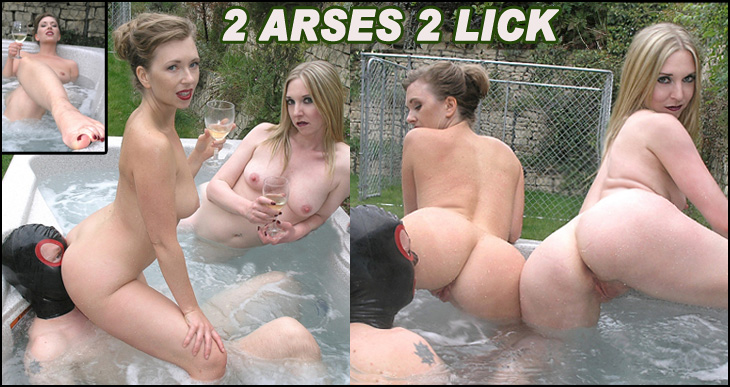 You should bookmark Sidonia's fantastic blog: http://www.theenglishmansion.com/blog/
You can see vids with me on Nikki Whiplash's sites here:
http://www.ballbustingworld.com
Here's Nikki:
I'm excited to be working with the diabolical Fetish Liza:
Here's Liza:
Liza's blog has some good pics of me actually: http://fetishlizablog.com/
Although filming is the main focus of this trip I will be going to the Torture Garden fetish party in London on May 5. The last time I went it was mind-blowing. The costumes and eye candy: wow.
I will have very limited time for private sessions and already have a few clients I've seen before who would probably give their left nut to see me again. If you are very interested in meeting me while I'm in Europe you are welcome to apply but be prepared to be generous. I don't 'need' to take any private sessions. I will accept a few bookings if they are irresistibly appealing.
I am also excited to have the opportunity to film with Lexi Sindel in LA during a brief 10 hour layover coming back from Bali mid-April. (Yes, I will be in Bali for a yoga retreat the first couple weeks of April. I'm just a little bit hippie. Now you know.)
You can find vids with me on Lexi's clips store and on mine.
I also plan to go to FetishCon in Florida in August with Ceara Lynch. Our recent Vegas trip was so productive & fun we're both excited to do it again.
Here's is the lovely Ceara Lynch in one of the vids we filmed:
Ceara's blog is a MUST-READ: http://cearalynch.livejournal.com/
I love working with all of these smart, independent women. There are no 'pimps' or male boss's.  Some may have life partners/lovers or men to help with various aspects of the business, but they are owned and run by women. Very inspirational.
I have found the community of female FemDom producers to be very supportive. Not catty. It can sometimes be a bit solitary for me, especially if I'm in one of the phases where I'm just filming myself doing POV solo scenes with the camera on a tripod. For days, I can be working alone, filming & editing. I look very forward to these opportunities to work with other producers. To bounce ideas off of each other. To discuss business problems and share solutions. To learn about their stories, how they got to where they are. We learn from each other and have fun. Camaraderie.
So for those who recall my plan to travel less in 2012: it's not going so well is it? *smile* I'm about to be gone for two weeks, back for three, then gone again for another three weeks. They say a rolling stone gathers no moss…
xo
Mistress T
Members site: http://www.MistressT.net
PPV: http://www.clips4sale.com/23869
Blog: http://mistresst.wordpress.com/
Twitter: http://twitter.com/#!/MistressTdotnet